Adult Bib/Dinner Scarf - Blue Mickey Patchwork (Average Only)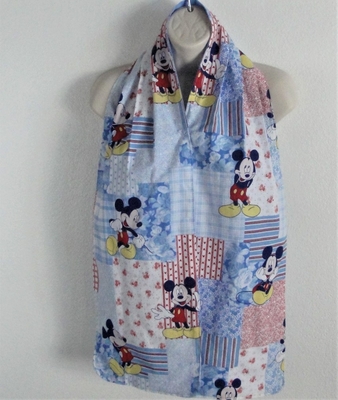 Description
Size Average only available in this print
* * * * *
Our Dignity Bib/Scarf allows you to eat and be covered without feeling like you are wearing an oversized baby's bib. Such a stylish way to obtain the extra protection you desire while dining.
Our scarves are pleated on the neckline so that they won't bunch up and have a snap on the front to help hold your scarf in place while you eat. Our average size scarf is 58-60" long and our petite size is 49-51" long. Each side of the scarf is 9-9.5" wide so they cover your chest and go down to your lap while dining. The snap is approximately 10.5" from the back of the neck; please let us know if you need it to be farther down if you have a larger neckline.
Since our scarves are made from 100% cotton fabric, they are absorbent and washable (cold water) and can be reversible as well. Scarf can be ironed if necessary.
Adults in assisted living, nursing homes, memory care as well as disabled adults and teens love having a "bib" that looks a scarf and gives them some dignity. They are wonderful for putting on makeup or any other activity or situation that requires a bit of protection for your clothing.
Fabric: Fun Mickey patchwork print with solid blue on back contrast.
We do offer volume discounts; just contact me for pricing and prints available.
---