Rave Reviews!
Perfect for My Shoulder Surgery!!

This item has worked out extremely well for my post shoulder surgery. I don't have to worry about getting this on over my surgical shoulder. It's set up to step into and close the shoulders with velcro. Perfect for me. Thanks.
Reviewed
Mon, Sep 18 2023 9:07 am
by
Victoria B
---
Beautiful Shirts

I received all of the shirts, nightgown and camisole today. They fit well and are beautiful. Perfect for my upcoming operation and alleviate my anxiety about what I was going to wear without causing myself more pain and a lot of extra help in dressing myself. It is nice to know I have some stylish shirts to wear home from the hospital, home visits from friends and family and going out to physical therapy and to church. This is a wonderful service you offer to women going through shoulder surgery. Thanks again.
Reviewed
Wed, Feb 08 2023 9:18 am
by
Marion
---
Love my Shirts ❤️❤️

I just wanted to let you go that my shirt arrived on Saturday; that was much faster than I expected! Amazing how you got it out so fast, I appreciate that. I absolutely love this shirt too, love the design, fabric and color. The thickness and texture will be great for wearing without a bra at first. I plan to order one or two more as my budget allows…. They are great and so well made. Thank you for supplying a need with some style ❤️
Reviewed
Tue, Jan 10 2023 3:06 pm
by
Debbie K
---
It's Gorgeous

I am so pleased with my new top. It will be nice to have something pretty to wear out and for the Holidays. The red is perfect with my grey hair. I'm so happy to have found your site. I will come back.
Reviewed
Thu, Oct 06 2022 9:56 pm
by
Marion Wesoski
---
Love my Shirts and the Pre-Surgery Tips Too!!!

I scoured the internet for shirts and I liked the look and design of your clothing the best. The nurse helping me dress after surgery was really impressed, so I gave her several of your business cards. I printed out your Pre-Surgery Tips as a check list. Thank you so much for this information, it was extremely helpful. Thank you again for your wonderful products and the time and effort you have put into making available helpful information.
Reviewed
Mon, Aug 22 2022 7:09 pm
by
Joy
---
Great tops

I recently had rotator cuff and bicep surgery. I was concerned about how I was going to be able to get dressed then I found your website and I'm glad I did! The Velcro tops are a Godsend to me. They make it easier to get dressed although I do still need a little help but I can feel good about how I look when I go out. I have recently ordered more because I like them so much. Debbie was also helpful. My physical therapist has asked for business cards so I will provide to her on my next visit and hopefully will be able to help make someone else's recovery easier.
Reviewed
Sat, Aug 20 2022 9:33 am
by
Bev Driver
---
Made recovery so much easier for Mom!!

I just wanted to let you know the items arrived and are beautiful! Mom's wearing one of them now and it was SO much easier to get her dressed, and without additional pain! This was one of my top struggles, and you make a wonderful product that makes a huge difference! Thank you so much.
Reviewed
Wed, Jul 06 2022 1:24 pm
by
Carrie
---
Love my Shirts ❤️❤️❤️

Hello, I received the shirts I ordered to prepare for upcoming shoulder surgery and I love them. I came across your website by accident and I am so glad I did. I would also like to mention that your shipping was faster than anywhere else I have ordered from. 👍😊
Reviewed
Mon, Apr 18 2022 5:11 pm
by
Cynthia
---
Great Company and Wonderful Product

I ordered two Shoulder Shirts and they were delivered fast. They are beautiful and well made. When I first wore my shirt to the doctor's office, the receptionists, the assistants and even the doctor were commenting how nice the shirt looked and that they had never seen a shirt like that before. I gave out your business cards. Then today I visited a physical therapist in a well known busy office in Brooklyn, NY for the first time, and she couldn't stop complementing the blouse so I gave her your businesses cards too. The attraction they get and the feeling of looking normal under these circumstances after such an injury can't be fully put into words. You have a great company and I want to thank you personally for your products. I love them and will wear them well.
Reviewed
Wed, Mar 30 2022 10:52 am
by
Susan
---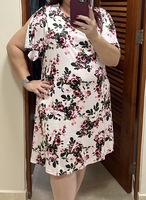 Great! ♥♥♥

Hello! Today I received my order from Shoulder Shirts! I was delighted with my blouses and my nightgowns for my first shoulder surgery. Lynn and Debbie were wonderful guiding me on fabrics, sizes and answering all my questions. The prints and the fabrics are of very good quality. I have peace of mind knowing that I have clothes that will help with my recovery and make me look good! I am very happy to have found your website. Thanks for all your help!
Reviewed
Tue, Feb 01 2022 1:07 pm
by
Brenda Hernandez
---
Thank you tons❤️❤️❤️

I bought two of the tank tops for my sister when she had neck surgery. She said they were a life saver!!!! Very comfortable, easy to get on and washed up nicely. When she wore one to her doctor appointment they flipped!!! She will leave your card and brochures at her appointment in two weeks at her doctor's office💖thank you again.
Reviewed
Fri, Sep 03 2021 3:44 pm
by
Bonnie
---
Fantastic

As I prepare for my fourth shoulder surgery (reverse shoulder replacement this time) I decided to order another Shoulder Shirt. These are fantastic and make recovery so much easier. I ordered my shirt on Wednesday and it arrived today (Friday). Fast service and quality product. Nurses and therapists always comment on my shirts. I will definitely recommend these shirts and will give the business cards to anyone who asks for them. Thank you for making my upcoming surgery easier.
Reviewed
Fri, Aug 27 2021 8:37 am
by
Donna
---
THANK YOU!!

I want to thank you for the products I recently received from you. I am having shoulder surgery tomorrow, and when I was told I could not wear a bra post surgery, I was trying to get my head around the idea of not being able to go out in public for six weeks. The doctor also instructed me to cut up one of my shirts, install velcro on the side, and bring it to surgery so I would have something to wear home. There was no way I could accomplish that since both my husband and I were quarantined following our pre-op COVID tests. Then my husband discovered your products online. What a blessing! Thank you for making this situation so much easier for me. You are offering a wonderful service - and it is very much appreciated. I will take the business cards that were included in my package to the surgery center with me. I know I will be asked where my shirt came from. THANK YOU!!!
Reviewed
Mon, Aug 02 2021 2:52 pm
by
Wanda
---
Best Ever!

I am so blessed to have found this wonderful family business. The shirts are perfect for post surgery and they are truly designed & crafted with care and love for their customers. They even give helpful hints on recovery! It helps healing to feel both comfortable and dressed in the pretty designs. Super fast delivery. Thank you so much. Heal well everyone!
Reviewed
Sat, Jul 17 2021 3:34 pm
by
Linda M
---
10 Stars!!

I received my 2 blouses for when I have shoulder surgery and omgosh they are wonderful. Thank you so much.
Reviewed
Wed, Jun 16 2021 11:51 am
by
Sharon
---
Nice

Great quality BUT velcro on nightgowns TOO stiff. I've sewn for 55+ years so I see amazing quality but velcro feels like craft velcro not soft like fabric velcro.
* * * *
Note from Shoulder Shirts – We get our hook and loop (the velcro-like fasteners used in our shirts) directly from a company that makes the product specifically for medical purposes.
Reviewed
Fri, Jun 11 2021 7:48 am
by
Suzie Kielar
---
Wonderfull !!

Thank you so much for going above and beyond with my order in regards to the fast shipping. I love the shirts. Just what need after surgery. The shirts are very good quality. Great product. I am so glad I found this website. Will definitively recommend.
Reviewed
Mon, Oct 12 2020 11:58 am
by
Tanja Skinner
---
A Godsend

I cannot overstate how wonderful these shirts and dresses are. The fabrics are lovely and the Velcro attachments at the shoulder saved me! Shoulder and biceps surgery itself was not difficult, but the recovery and rehab is really hard. I honestly don't know what I would have done without Debbie's designs. A helpful hint for others anticipating surgery like this: do it in the summer when the 24/7 ice machine is truly relieving. And a bonus for me was the fact that I love to get in the pool but try tugging on the average spandex bathing suit with one arm: an impossibility. So, I donned shorts and one of Debbie's sleeveless tops...Saved me. I am sharing Debbie's cards with staff at the surgeon's and the PT's —upon request. And I've had several. I'm so glad I found ShoulderShirts —Thank you, Debbie!
Reviewed
Fri, Aug 28 2020 4:14 pm
by
Lisa B.
---
AWESOME Blouses and cape!!!

I CAN'T THANK YOU ENOUGH! AWESOME Blouses and cape..Hopefully, I can re-use them after I recover (and beyond ), from my surgery on Thursday!! Thanks so much for your great service!! You are highly recommended from me!! Best of luck with your business!!
Reviewed
Wed, Aug 19 2020 8:28 am
by
Dawn H
---
Nightgowns

Not only was I delighted with my order and its quality, I was really impressed with the communication and speed with which delivery was completed. I've left business cards at my surgeon's office as well as my physical therapists'. This was incredibly helpful after rotator cuff surgery! Highly recommend!
Reviewed
Sat, Jun 20 2020 6:18 pm
by
Alison B
---
Love the Shirt

My girlfriend received the top yesterday and was very excited, happy and just loved it. After searching the internet for two days for something special, I am glad I found your website. It was nice to call and talk with a person. I think it was Debbie who was extremely pleasant and helpful. She indicated that she does not usually place the orders but rather is the seamstress. I never knew such tops exist and your website had many to choose from. I am glad I came across your website - thank you.
Reviewed
Sat, Jun 20 2020 2:22 am
by
Sandra Small
---
Wonderful Quality

The material and quality are beautiful. Made well. Recommend to anyone having surgery.
Reviewed
Thu, Jun 11 2020 2:16 pm
by
Toni
---

I received my shirts and night gown today (prior to my surgery). The quality of these shirts are outstanding and they will be easy to get and off post surgery. I do have one question for you, you only have one sleeveless nightgown in XL. When will more colors be available in this size?
Reviewed
Tue, Jun 09 2020 2:22 pm
by
Judy Johnson
---
Excellent quality!

Excellent quality outstanding craftsmanship, thoughtful design. All that and Debbie was so kind and helpful when I called with a few questions. I ordered 4 shirts, 2 nightgowns and a belt. I'm so grateful to be ready prior to my surgery and physical therapy. I ordered a couple of other things from another provider and the prices were higher but the quality wa lacking. So happy to have found Shoulder Shirts.
Reviewed
Sat, Nov 23 2019 6:43 pm
by
Sarah H
---
Fleece Cape

While the design and workmanship was great, the fabric took 4 wash/dries in order to wear without becoming covered in gray fuzz. Great idea otherewise.
Reviewed
Sun, Nov 17 2019 8:13 am
by
Gloria Kennedy
---

GREAT PRODUCT --- very well made and has been truly a blessing for me. I can get dressed and continue working and enjoying life. I promise that you will also be blessed with this product.
Reviewed
Thu, Nov 14 2019 12:00 am
by
Keith R
---

My little sister will be having here surgery in December. And I just want to help her in every way possible. I would of been lost without your help. I thank you from the bottom of my heart for all that you have done to help me find some comfort with clothes after her surgery.
Reviewed
Sun, Nov 10 2019 12:00 am
by
Susan S
---

Wonderful! Great quality, large enough to accommodate my sling, easy on easy off, stylish, comfortable! Superlative construction. Thank you.
Reviewed
Thu, Oct 10 2019 12:00 am
by
Reddlilacs
---

I had no idea something like this existed, but what a wonderful product. Yesterday I had rotator cuff surgery. I thought before hand to see what was available to help me. I loved thIs shirt so much that I ordered two more and a nightgown. Great, affordable pricing for priceless items like this.
Reviewed
Thu, Jul 04 2019 12:00 am
by
Cathy R
---