Libby Shirt - Neon Pink Rayon Ponte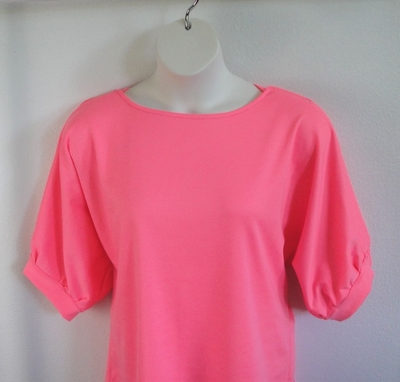 Libby Shirt - Neon Pink Rayon Ponte
Description
See Size Chart
The original Shoulder Shirt™.
This style of shirt has a rounded neck line and opens at both shoulders with hook and loop fasteners (Velcro like) for ease in dressing (or nursing) and drop sleeves with a cuff that fastens at the elbow with hook and loop. Each Shoulder Shirt™ comes with a ribbon designed to pull up the back shoulder into position for fastening the shirt. (See pictures for examples of how the shirts work.)
These styles tend to run large to accommodate immobilizers and slings and are made to fit loosely, like a pajama top. I have included the approximate measurements. (I do not recommend ordering the next size larger without first checking the measurements.) Please note that this style does not flair out and has the same circumference all the way down. Be sure that you can easily slide it up over your hips.
PLEASE SEE OUR SIZE CHART ABOVE. (Lt. blue size chart button above next to SKU.)

Fabric: Rayon Blend Ponte. This is a heavier medium weight rayon blend ponte fabric. It features a bright shade of neon pink that will let you shine through your recovery!!! It is a little heavier and would be great for right after surgery when you can't wear a bra. Wonderful to recuperate at home or to go to medical or physical therapy appointments. It would look good casual and dress alike. Perfect if you have to go back to work soon. Also great for breastfeeding moms with easy access for nursing.
Style: Libby

---