Unisex/Men Shirt (Men's Sizes) - Olive Green Tie Dye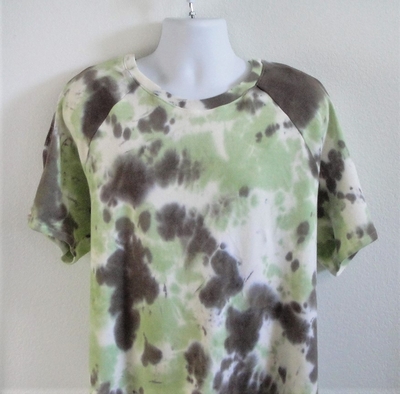 Unisex/Men Shirt (Men's Sizes) - Olive Green Tie Dye
Description
See Size Chart
The original Shoulder Shirt™
This style of shirt is a t-shirt. It features a scoop neck and opens at both shoulders with hook and loop fasteners (Velcro like) for ease in dressing and has inset sleeves that fasten at the hem. Each Shoulder Shirt™ comes with a ribbon designed to pull up the back shoulder into position for fastening the shirt. (See pictures for examples of how the shirts work.) The shirts are machine washable.
Shoulder Shirts™ tend to run big to accommodate immobilizers and slings and I have included the approximate measurements. They will not fit snug like a normal T-shirt, but loose like a pajama top. I do not recommend ordering the next size larger than your normally wear without checking our size/measurement chart first.
PLEASE SEE OUR SIZE CHART ABOVE. (Lt. blue size chart button above next to SKU.)
Fabric: Cotton knit. This is a wonderful heavy weight 100% cotton rib t-shirt type fabric in a tie dye print in shades of brownish-olive and green on creamy white. (Please note that the rib knit wears bigger due to the stretchiness of the fabric.) This shirt would be like curling up in your favorite old t-shirt. It would be wonderful for recovering around the house or going to therapy.
This is a hand tie-dyed fabric and needs to be washed separately before wearing or washing in cold water with any other clothing as the colors may bleed when first washed. It also helps to add some white vinegar to set the colors. Please note that due to the stretch of this fabric, this shirt will wear bigger than our other shirts.
PLEASE NOTE that color placement will vary from picture.
Style: Unisex T-Shirt (in men's sizes)
---